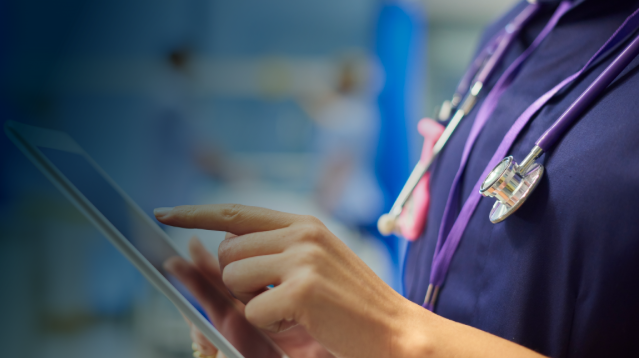 Meet our speakers | Top NHS CIO and VMware's Chief Technologist feature in our exclusive NHS webinar
We're delighted to introduce the expert speakers featuring in our exclusive Q&A webinar on Gloucestershire NHS Trust's journey from IT laggard to award-winning digital aspirant.
Gloucestershire Hospitals' large-scale digital transformation programme enabled the Trust to roll out an Electronic Patient Record (EPR) system in five months, supported over 500 clinical systems and allowed 2000 people to transition to remote working, almost overnight.
Mark Hutchinson, Chief Digital and Information Officer at Gloucestershire Hospitals NHS Foundation Trust, and Martin Hosken, Chief Technologist of Cloud Services at VMware will discuss how working with LIMA led to a successful digital transformation programme using VMware's Cloud Foundation.
Meet the speakers
Mark Hutchinson joined Gloucestershire Hospitals NHS Trust as the Chief Digital and Information Officer in October 2018. During his 22 years working in Acute NHS Hospitals, Mark has been involved in several ground-breaking projects delivering large scale, complex transformational projects.
Mark's previous experience saw him implement England's first Telemedicine system in Airedale NHS Trust, delivered electronic patient records at Salford Royal Foundation Trust (awarded Global Digital Exemplar status) and delivered the first electronic patient record at Wythenshawe Hospital.
Passionate about how well-implemented technology can improve the safety and reliability of patient care, Mark has most recently delivered the fastest UK implementation of an EPR system at Gloucestershire Hospitals.
Since becoming CDIO, he has championed investment in accelerating digital change. The success of Gloucestershire Hospitals' digital transformation programme has accelerated the need for more agile access to systems, providing clinicians with live patient data whenever they need it and in turn ensuring that all patients receive the best care.
Their long-term aim is to provide agile and mobile computing experiences to colleagues to meet the expectations set with the implementation of their EPR, encouraging collaboration with colleagues across Gloucestershire's health community and delivering better outcomes for all.
Mark's achievements in Gloucestershire Hospitals include:
• Delivered the fastest implementation of an EPR system in the UK.
• Planned a clear roadmap to HIMSS level 7 in five years.
• Featured in the CIO Top 100 in 2020, shortlisted for HTN Leader of the Year 2020.
• Increased investment in digital and IT with board and executive support.
• Improvements in business intelligence and reporting, significant improvements in data quality.
• The rapid rollout of remote working capability during the pandemic.
• HTN award winner for Major Project Go Live (EPR) and Best use of Data (Covid-19 dashboard).

Martin Hosken is the Chief Technologist for Cloud Services at VMware. Having worked for VMware for over 7 years, Martin works at the evolution of VMware Cloud Services, the intersection where IT architecture, solution architecture and software development meet.
His primary focus is on cutting edge solutions in today's complex cloud market and helping customers and partners prepare to make the most of the opportunities presented by emerging technology and software development practices.
His role leads on providing the intersection between research and development, engineering and sales functions helps organisations like the NHS deliver solutions that are innovative and align with their cloud strategy.
Martin is a double VMware certified design expert in Data Centre Virtualisation, Cloud Management and Automation. He has been awarded the annual VMware vExpert title for the past seven years. Amongst his achievements, Martin is an author of three books, dozens of papers, blogs and articles based on cloud technologies.
Don't forget to register your place for our exclusive Q&A with technology experts Mark Hutchinson and Martin Hosken. Click below to secure your virtual seat.
Can't make the date? Don't worry, simply register your interest in the event below and we'll send you a copy of the recording and all of the supporting documents.

When: Tuesday 14 September 2021, 11.30am – 12.30pm.
Where: Click here to secure your virtual seat.
LIMA is an insight-led, strategic IT partner with vast experience in supporting NHS Trusts for the past 10 years on digital transformation programmes that enable resilience, optimisation and growth. Click here to speak to one of our Account Directors to find out more.