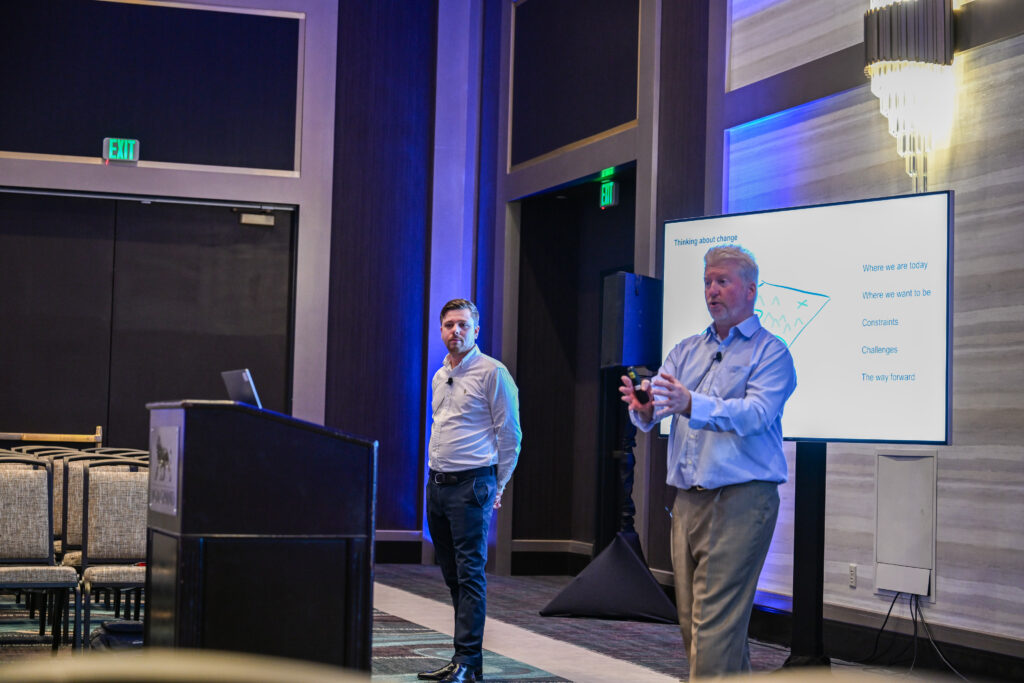 How LIMA works with NetApp to unlock benefits

Unlocking more possibilities with NetApp: An Overview
As experts in cost-effective data storage and security solutions, we're thrilled to announce that LIMA showcased at NetApp Insight Vegas – the yearly kickoff event that shares the most recent advancements and innovations in the data storage and security industry. The renowned technology conference brings together international data and digital infrastructure specialists to collaborate and exchange ideas. At LIMA, we found the event to be a terrific opportunity to discuss our ongoing work with NetApp over the past two years, specifically in respect to our multi-tenant sovereign cloud platform.
Our speaker, Ollie Potts, Pre-sales Architect at LIMA, addressed the four primary concerns of contemporary businesses: security, simplicity, sustainability, and cost-effectiveness, and showcased how we have driven these within LIMA Cloud.
In this blog, we discuss how we've been working with NetApp to unlock more, and outline how LIMA's cost-effective and eco-friendly solutions can strengthen your business.
Security
At LIMA, we believe that online security is a critical requirement for all organisations that operate in the digital domain. Our partnership with NetApp is solidified in our joint priority to bring secure data storage to all users, with modern, proactive protection from the growing threat of ransomware.
Using our Security by Design framework, which we've integrated into all of our systems, we approach security from a holistic angle and incorporate security principles into everything we do. This essentially means that we analyse every decision, task, and action we take from a security stance first, asking 'how will this affect security?' We know that being secure online is vital for our clients' professional ethics as well as upholding compliance with security regulations. Through our partnership with NetApp, we're able to deliver cutting-edge security through NetApp's continuous development and implementation of product security standards, ensuring our clients have the most modern form of protection.
With regard to ransomware in particular, NetApp's Ransomware Recovery Guarantee increases confidence in the security of your data storage and offers compensation in the event that data copies cannot be restored. The Ransomware Recovery Guarantee has built-in ransomware protection features that allow it to quickly block malicious file types as well as identify and stop rogue administrators or users through multi-admin verification. These useful features will provide innovative safety that works in unison with your data storage system.
Simplicity
In order to use your technology to best reflect your primary business goals and needs, you must have a firm grasp of it. Your tech needs to be straightforward and simple to use in order for you to use it effectively. NetApp shares this vision with us, with an ambition to ease data storage as a service. As a result, NetApp has developed a unified data storage "centre," spanning multiple on-premises and public cloud storage solutions. This allows users to access a unified control panel from which they can file, block, and object workloads within a single operating system.
We also believe that a simple yet thorough approach aids transparency, for both the client and the provider, making it easier and quicker to identify any possible problems, from security to user interferences. For example, performance bottlenecks are one of the main causes of incidents impacting the user interface. Infrastructure contention, or having more demands placed on the platform than it can handle, is the primary root of most performance bottlenecks. Our simplified approach aids transparency of these issues, allowing us to skillfully manage our customers' needs and platform capacity, mitigating incidents.
We focus on quality over quantity, believing that a comprehensive yet straightforward approach is optimal for delivering a service that is efficient, accessible for our clients, and tailored to an organisation's demands. NetApp's ability to apply Adaptive Quality of Service, alongside their Cloud Insights product, means that we can optimise capacity planning and forecasting, helping us to achieve more insight and delivery, without the need for more equipment or hassle.
In summary, simplicity is important for allowing us to see cause and effect correlations, enabling issues to be identified and resolved quickly. Possessing less equipment additionally makes our solutions easier to use and manage, reducing downtime and minimising possible incidents.
Sustainability
Recent change in compliance regulation places a greater emphasis on sustainability and emission reduction, resulting in businesses placing growing importance on achieving sustainability goals. Selecting an eco-friendly solution provider can assist you in achieving your sustainability objectives without sacrificing efficiency.
At LIMA, we've been working hard with NetApp to improve our sustainability practices across the board. Eco-oriented innovation is built into every NetApp product to assist users in meeting their sustainability objectives, while reducing expenses across security, storage and cloud services.
Additionally, we've reduced our equipment footprint while actually expanding our platform capacity – utilising a more efficient way of managing our operations to deliver more while using less. In an effort to keep becoming a greener company, we have also decreased the amount of power we use and the amount of waste we produce annually.
Savings
Unlike other solution providers, LIMA is dedicated to shielding our clients from recurring price increases and only raises costs when is it absolutely required. We take great pride in our open pricing structures because we believe that modern enterprises must have cost predictability. As a result, our security and support services are billed annually per asset rather than per ticket, event, or request. With no additional fees or transaction costs, our clients will always know what they are going to be charged.
We differ from well-known solution providers like Microsoft Azure, AWS, and Google Cloud in that we don't use fluctuating product charges or transaction chargers, which impose higher fees the more you use a product. For businesses, this model can make charges extremely difficult to predict or budget for, which is why LIMA opts instead for a fixed yearly charge on our Cloud Services.
The digital advisor tools from Netapp, such as ActiveIQ, can also help you save by outlining the services most compatible with your goals. Our expert recommendations promise full honesty, with no added pressure or hard upsells, along with our round-the-clock support service.
Conclusion
We've been able to unlock some great benefits for businesses through our partnership with NetApp in the key areas where it matters the most. If you'd like to learn more about how LIMA can provide leading-edge IT solutions for your organisation, get in touch today!
Discover how we're enhancing data storage and security. Contact one of our experts on 0345 345 1110 or enquiries@lima.co.uk