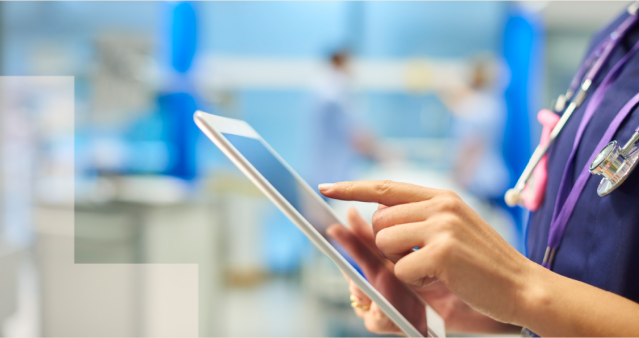 Top NHS CIO shares blueprint to digital aspirant success – Q&A Webinar
Discover more about Gloucestershire NHS Trust's journey from IT laggard to award-winning digital aspirant – in this exclusive Q&A webinar.
In this webinar you will hear from Mark Hutchinson, an award-winning Executive Chief Digital and Information Officer at Gloucestershire Hospitals NHS Foundation Trust, and Martin Hosken, Chief Technologist of Cloud Services at VMware, about how working with LIMA led to a successful digital transformation programme using VMware's Cloud Foundation.
Gloucestershire Hospitals' large-scale digital transformation programme enabled the Trust to roll out an Electronic Patient Record (EPR) system in record time. LIMA and VMware worked in partnership to deliver an IT infrastructure that supported over 500 clinical systems, improved collaborative working across diverse medical teams and allowed 2000 people to begin remote working almost overnight in response to the pandemic.
Benefit from this interactive webinar with:
• Exclusive insights from a Trust's award-winning digital transformation programme on how it's reinventing hospital services for future generations.
• How the solution enabled operational agility, giving the Trust the ability to respond quickly to changing conditions, without compromising long-term objectives.
• Insights from Martin Hosken, Chief Technologist at VMware, about the current challenges that the NHS faces and how the adoption of hybrid cloud technology is delivering better patient outcomes.
• A free consultative workshop.
An introduction to Gloucestershire Hospitals NHS Foundation Trust
A journey to outstanding patient care…
Gloucestershire NHS provides high-quality healthcare for the entire population of Gloucestershire. The NHS Trust has approximately 8,000 staff and provides a wide range of specialised hospital services from two main sites at Gloucestershire Royal and Cheltenham General Hospital. The Trust's five-year strategic plan, called 'Our Journey to Outstanding', lays out a programme to provide care for the next generation of patients through a significant digital transformation.
The Trust understands the essential and increasing role digital plays in healthcare and needed to modernise its data centre platform as the first step towards building an electronic patient record system. They turned to LIMA to help them design and deploy a robust and resilient solution that allowed them to transform hospital services for future generations. The new infrastructure promotes shared working and collaboration between other local NHS providers such as mental health services, social care and GP practices.
Gloucestershire NHS is now able to use IT resources more efficiently and is prepared to migrate its systems to the cloud, find out how in our exclusive Q&A.
How to register
Don't forget to register your place for our exclusive Q&A with technology experts Mark Hutchinson and Martin Hosken. Click below to secure your virtual seat.
When: Friday 16 July 2021, 11.00am – 12.00pm.
Where: Click here to secure your virtual seat.
LIMA is an insight-led, strategic IT partner with vast experience in supporting NHS Trusts for the past 10 years on digital transformation programmes that enable resilience, optimisation and growth. Click here to speak to one of our Account Directors to find out more.