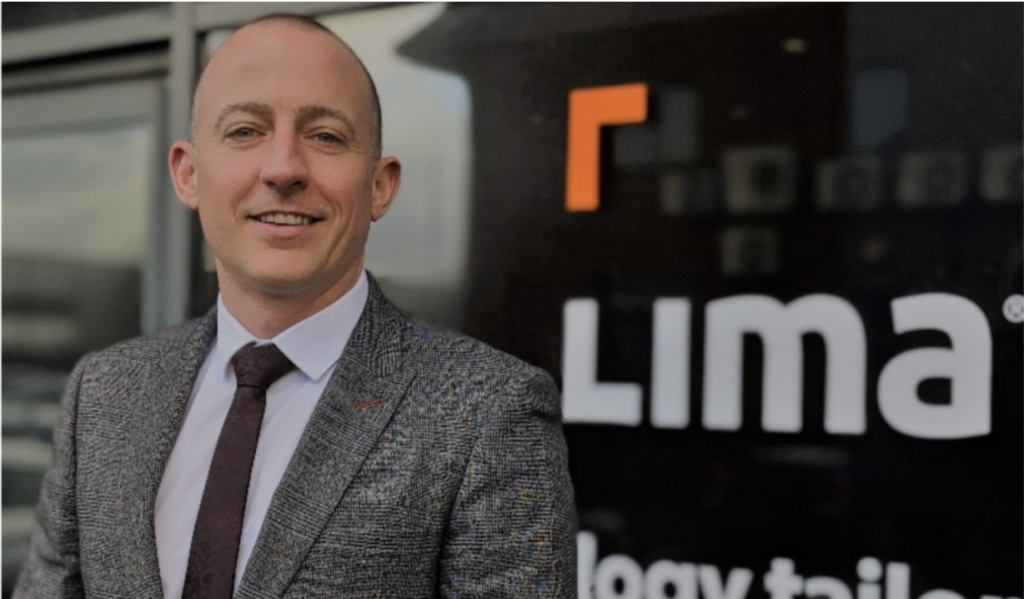 Mark, Account Director, talks all things career progression and life at LIMA
We caught up with Mark Howie, Account Director at LIMA, as he talks about his career, role models and his top tips for balancing home and work life (especially during lockdown).
Mark started his career in tech as a Telesales Executive making appointments for Account Managers, and from there, he soon worked his way up to Senior Account Director, engaging with clients to develop strategic IT roadmaps to underpin business visions and objectives. He's worked in the IT industry for over 19 years, eight of which have been spent developing his career here at LIMA.
In this blog, Mark tells us a little more about life at LIMA and the journey he has taken to become our top-selling Account Director.
5 minutes with Mark Howie…
Although we agree that there's no such thing as a 'typical day at work' in recent months, we asked Mark what life in the Sales team looks like for him…
In the current climate, I'm working from home; we usually have a team huddle or brief catch-up in the morning to share ideas or any updates we have. I regularly speak with my line management and different members of the Senior Management team who are an incredibly supportive bunch, especially in these strange times! Then it's carrying on with plenty of customer meetings and I set to work making sure I find time to work on strategic engagement with my key customer base.
LIMA is a great place to work as they are very inclusive in so many different ways. The business makes every effort to identify your key strengths and align you to different projects throughout the business in important areas such as new products and service development, brand projects etc. It means that you get to contribute and gain experience in areas of the business that you otherwise wouldn't be involved in. We also work very closely with the Marketing team to develop campaigns that are valuable and engaging to our customers and prospects.
What's your favourite thing about working at LIMA?
My favourite thing is LIMA's culture, inclusivity and its family feel. It's the type of company that has enough of a corporate outlook that allows us to be professional and take our work seriously but have fun at the same time. At LIMA you can create meaningful relationships with colleagues, management, customers and even the Board as we have direct access to them and the CEO.
Even in lockdown, management make such an effort to engage with each and every team member, reaching out with fun activities via the LIMA chat, videos, quizzes, virtual team drinks – we've even had a go at pizza making over lunch!
At LIMA, we are committed to helping our employees learn and develop within the company. We believe that it's about building on the great skills and invaluable experience that you bring so that we can provide the very best service for our customers. We asked Mark what his proudest achievement has been since working at LIMA…
I'd have to say how I've developed professionally into a proven, successful Account Director over the past three to four years with the help and support of LIMA. The professional development I've gained at LIMA has allowed me to excel in terms of the numbers that I've delivered in the past couple of years, but it's also encouraged me to step outside of my comfort zone and learn new skills.
As a father of two, do you have any advice for balancing home and work life?
I use exercise to clear my mind and help me focus. LIMA provides us with the freedom to manage our own time and be accountable for our own output, which gives me the freedom to fit work around my life. I have young children and so I always dedicate most of my weekend to family, although during the week I'll often log on later in the evening once we've got the kids to bed and I have some quiet time to keep on top of my workload. There's a great social side to LIMA which also encourages us to ensure we make time for our personal lives outside of work.
Tell us what inspires you or provide your favourite inspirational quote
My favourite quote? "One man's ceiling is another man's floor".
I've always believed that you are responsible for setting your own goals and targets and you should never think that you can't do something. If you work hard and apply yourself, you can do anything!
After working in technology for 19 years, we think Mark must have a few tricks of the trade! So, does he have any advice for future talent looking for a career in tech?
My biggest piece of advice would be to work hard, always be open to learning new things and strive to improve every day. Do something you love that makes it easy to get out of bed and go to work each day! Push yourself outside of your comfort zone, that's the only way to truly improve.
Shout out three incredible people in your network that are doing great things!
This is a difficult one! But I'd have to say…
Jon Tattersall – for the fantastic transformation he's driving within our service departments.
My Wife – for holding down homeschooling our two young children during lockdown and generally being a superhuman!
My final one isn't a person as such, but I work closely with many key NHS customers and everyone within the sector deserves a medal for what they are all doing in the current pandemic, both frontline and back office.
---
Fancy the sound of life at LIMA? We're currently looking for bright, talented and driven people to join us during a period of exciting growth in a variety of roles. Click here to browse all our current vacancies, find out more and apply.